When you publish your Single Property Sites, SPS will prompt you to automatically assign a unique street-address URL link. The suggested URL link will matches the street address (e.g. http://1122MainStreet.2seeit.com).
You'll be given the chance to choose the suggested URL or change it.
Additionally, you may optionally choose to register a unique domain name, or assign a domain name you already own.
If you choose to register a unique domain name, these will be registered, in your name, for 12 months.
Whichever method you choose, domain name links like this provide a fast, simple and obvious way to market your listing - and sellers love that fact that their home has its own website and it's own unique web address!
You may assign any domain name you like to your listing - as long as its not already in use.
Whilst a domain name is not mandatory, if it is the same as the Street Address of the property it does provide buyers with the fastest and most memorable way to find your property online. For example, a property address of "1122 Main Street" would suggest a domain name like "www.1122MainStreet.com".
The URL / domain name can then be used in all your real estate marketing materials. The domain name can be printed on your sign riders and in your PDF flyers.
Have your own domain name already purchased? No problem! It's easy to connect to your new Single Property Site - we show you how.
Domain Name Features
Domain name is optional.
Register via SPS @ $12.99 for 12 months, or use your own (we'll tell you how!)
Your Domain name control panel give you complete control: transfers and renewals.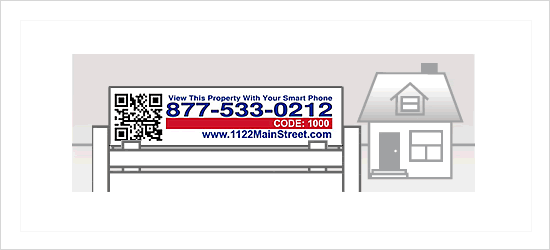 Your domain name is used in all your real estate marketing materials - sign riders, text message flyers and PDF flyers, too!